Raoul du Toit Represents First Rhino Program at Wildlife Conservation Expo
October 30, 2013
2011 Goldman Prize recipient Raoul du Toit recently attended the 2013 Wildlife Conservation Expo in San Francisco. While he was in town, du Toit stopped by the Goldman Prize office to visit and update us on his work.
The Wildlife Conservation Expo, an event hosted by Wildlife Conservation Network, is an annual event that brings together numerous conservation organizations, guest speakers and donors to share stories and lessons from their conservation experiences around the world. Dr. Jane Goodall was the keynote speaker at this year's event.
The conference had a strong focus on big cat conservation in Africa and Asia, but also featured projects working to protect Okapi giraffes, zebras, painted dogs, sharks, rhinos and more. Du Toit and his partner at the Lowveld Rhino Trust, Natahsa Anderson, represented the first rhino program to attend the expo.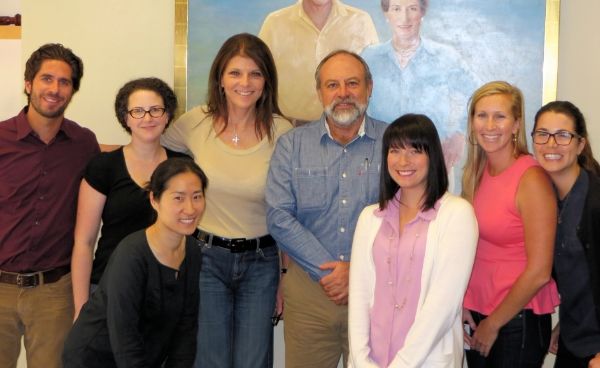 Du Toit with the Goldman Prize staff
Du Toit, Anderson and everyone at Lowveld Rhino Trust (LRT) continue to work furiously to protect Zimbabwe's threatened rhino populations from poachers, a tumultuous and often dangerous endeavor.
Du Toit lamented about the situation he and his team are faced with every day, saying, "It's a war, really."
Despite the severity of the situation on the ground, the Lowveld rhino population is the largest it has ever been in recorded history and poaching losses are at a nine-year low, with only four poaching deaths detected this year.
LRT recently received at EU$1.3 million grant from the EU Rural Development Project, which will help bolster du Toit's efforts over the next three years. Du Toit hopes to work with local communities and international donors to develop an innovative funding model which incentivizes wildlife conservation by essentially providing local schools with 'bonuses' when rhino poaching loses are limited.
Du Toit explains his plan in this great interview by Jeremy Hance for Mongabay.com:

"While local communities are likely to see a moral value in rhinos if sensitized to their conservation importance, within the short term the crucial step is to get them to realize an economic value for the species. To this end, LRT has developed "rhino production incentives" for communities in the form of material support for their schools, the level of which is proportional to the rate of rhino breeding in adjacent conservancies.

We provide a baseline level of support for the schools in the form of exercise books, teaching materials, etc., which have a rhino conservation theme but also provide teachers with what they need to teach subjects such as arithmetic and geography.

We show the communities that if the rhinos are breeding well with limited poaching losses, then on top of the baseline support we can allocate additional support to the schools, but if the poaching is stifling the population growth then the school support must reduce steadily to the baseline and the "production incentives" (which are annual payouts per calf that is produced in the conservancy) must be directed more towards anti-poaching costs.

The idea is to get communities to see that breeding more rhinos is in their interests. As livestock producers, they appreciate the emphasis on breeding success."

Tags: Africa, Poaching, Wildlife


Categorised in: Uncategorized